In recent years, many customers have paid attention to robot vacuum cleaners from Roborock(especially models Roborock S5 and S6).
A relatively young company has already introduced a wide range of models for different purposes and budgets and therefore deserves mention and more detailed analysis.
Roborock Technology Co. was founded in 2014 in China, and to this day it specializes in the production of high-tech robotic household cleaning equipment. An exclusive plus of the company is its team.
The founders managed to assemble a reliable and experienced team of specialists who use not only traditional, respected technologies in their products but also bring fresh, innovative ideas.
Roborock robot vacuum cleaners occupy an average price niche in the market, and sometimes different models have much in common. Therefore, it can be difficult for us to make a choice.
Today we`re going to analyze and compare two devices in detail – Roborock s5 vs s6.
Roborock S5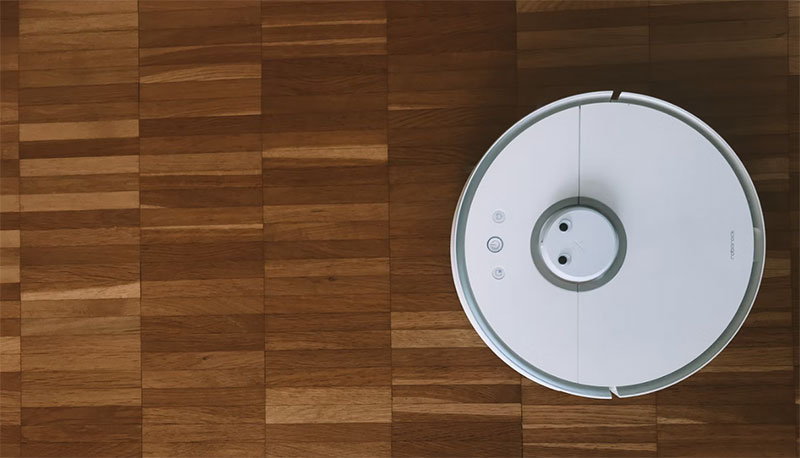 The first model, Roborock s5, is a second-generation robot vacuum cleaner that is very popular for high-quality cleaning and reasonable price.
The new model incorporates all the best qualities of its predecessors and has been supplemented with several new features.
S5 is a good reliable average, which will pleasantly surprise you with both dry and wet cleaning.
The robot has quite standard dimensions (350 x 96.5 x 353 mm) and can carry out cleaning under furniture and overcome small obstacles. It means that your device won`t plaintively call for your help every time a soft carpet or door threshold stands on its way.
At the bottom of s5 is a combined roller brush, equipped with both silicone wings and conventional bristles. This combination contributes to better capture of different types of garbage.
Also at the bottom, there is a side brush for corners, a 480 ml removable dust container, a 150 ml removable water container and a place for soft fiber (like a water container, you will need it in the wet cleaning mode). Inside, manufacturers hid a HEPA filter to clean indoor air.
The s5 orientates greatly in space thanks to a combination of pressure sensors and height sensors, which are located on the entire surface of the case. But the main device for navigation is the upper LDS laser that scans a room at a speed of 5 times per second and rotates 360 degrees. The vacuum makes a map using the laser and the SLAM algorithm. They also help determine the type of surface and alter the suction force.
To control the device, you need to download a special mobile application with a standard set of features: remote control and location tracking, a cleaning schedule, and a choice of operating mode. You are free to choose between several cleaning modes depending on which the vacuum changes suction power (from quiet 400 Pa to the most powerful mode of 2000 Pa). There is also a separate mode in which the robot performs only wet cleaning, while the side brush also rotates sweeping dust.
The cleaning mode significantly influences the battery duration. Though, the 5200 mAh lithium-ion battery provides up to 150 minutes in dry mode and up to 60 minutes in wet mode. Charging duration is 180 minutes.
Important
This model is perfect for house family use. If you are allergic to dust or pollen, have fluffy pets, small children, then Roborock s5 is for you. The robot's power and the charge will be enough to clean several rooms, but it is unlikely to cope with large office or administrative premises. In general, we have before us a high-quality and relatively inexpensive representative of smart robot assistants.
Pros
functions of wet and dry cleaning
Good obstacle avoidance up to 2 cm
HEPA filter
Nice brush set
Adaptation to surface type
Scanning and building a map of the room
Five cleaning modes with suction power up to 2000 Pa
Capacious battery;
Cons
Small dust and water containers
No connection with voice assistants
Laser station may disturb cleaning under the low furniture
Some users complain about problems with the application
Roborock s6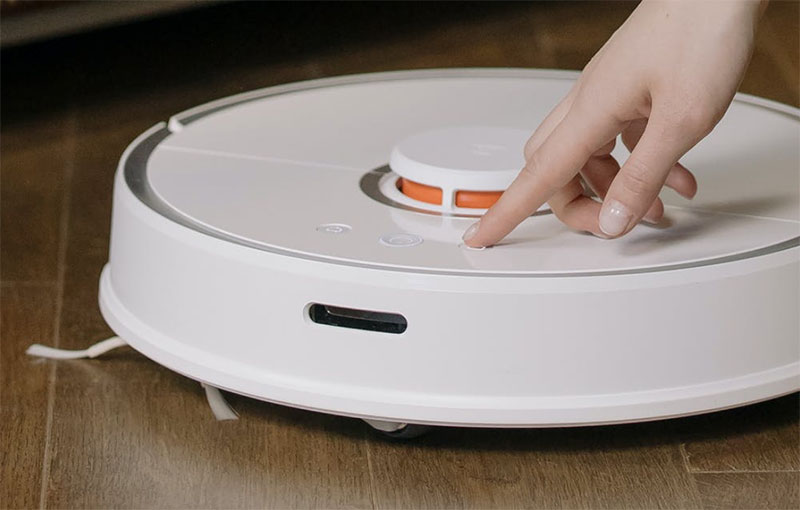 Roborock s6 is an entirely new model released for sale in 2019. This robot is a representative of the third generation of the Roborock line and has a lot of similarities with s5 as well as several improvements, but we will talk about this more detailed a bit later.
The robot has compact dimensions for better passability and cleaning both in open and inaccessible places (350 x 96.5 x 353 mm). On the bottom, we see a place for 480 ml dust collector and 140 ml water container (this device also supports the wet cleaning mode).
There is a set of 10 disposable fibers in the kit. In addition to containers, the robot is equipped with a side brush and a main silicone roller brush, which ideally collects small debris and hair. Of course, this model did not get along without a HEPA filter so you can be calm for air purity.
Navigation around the house is performed due to the laser sensor and the SLAM algorithm that form a virtual map of the room. s6 avoids obstacles and stairs thanks to height detectors.
Management occurs via Alexa Voice Assistant, remote control, or through the app. The maximum allowable power is 2000 Pa.
Speaking about the battery, we should note that its capacity has remained the same compared to the previous model – 5200 mAh. And that means that both the battery life and the recharge time have not changed. The robot cleans the room for 150 minutes in dry mode and charges about 3.5 hours.
Important
This robot vacuum cleaner has not undergone major changes, that`s why it still satisfies the standard set of needs of the average user. It will do an excellent cleaning of both a small apartment and a multi-story cottage, collect the hair left by your pet and keep the house clean until the next clear-out.
Pros
Quieter work
Connection to voice assistants
Cons
Small dust and water containers
Laser station may disturb cleaning under the low furniture
A rather high price
Differences between Roborock s5 and s6
There are not many differences between Roborock s5 and s6, and all of them are taking place only because s6 is a slightly improved variation of s5.
Firstly, the new model has a rubber side brush, not an ordinary bristle.
Secondly, manufacturers and users note a decrease in noise level during operation of Roborock s6 by approximately 30-40%.
Thirdly, the improved work efficiency has led to the fact that the 2019 model cleans the same room in less time.
And, in general, it can vacuum 250 meters of the floor until the total battery discharge compared to 200 meters of the previous vacuum cleaner.
Fourth, s6 now supports voice control via Alexa or Google assistants.
And the final difference between robots is their price. Today, Roborock s5 costs $400, while s6 can be bought no cheaper than $600.
Attention
We want to note that there is no tough fight like Roborock s6 vs. Roborock s5 between them. In terms of other functions and characteristics, our participants are absolutely identical. Both robots have the same dimensions, container volumes, suction power, batteries, and runtime. Both the first and second devices use laser sensors and map technology.
FREQUENTLY ASKED QUESTIONS
Roborock S5 vs S6: which robot is better for carpets?
Here, the choice of the best model is tough. Both vacuums have the same extreme 2000 Pa suction, Carpet Boost, tangle-free brushes, and capacious 480 ml dustbin. That`s why you can safely buy any of the two for your carpets. The only feature that highlights Roborock S6 is its longer run time.
What is a more affordable Roborock vacuum?
Roborock S5 model costs $400. This is a significantly more affordable option compared with Roborock S6. The latter robot vacuum will cost you $650. A higher price can be justified by the multi-floor mapping technology, longer run time, and bigger water tank.
Roborock S5 vs S6: which robot is better for large multi-story houses?
Both vacuums are an excellent choice for large dwellings thanks to their power and mapping. However, if you live in a multi-story house, you`d better choose Roborock S6. Unlike its predecessor, this cleaner use multi-floor mapping and can save several maps. Besides, the S6 runs up to 180 minutes, which is half an hour longer compared with the S5 model.
Are Roborock S5 and S6 compatible with Alexa and Google assistants?
Yes, both models support WiFi connection and can work with voice assistants like Alexa and Google.
Which one to choose?
In conclusion of the comparative review, we proclaim that robots are practically no different from each other. Those small changes that manufacturers add to the s6 design have almost no effect on performance and the final result.
The s6 model will be an excellent choice for those who are not constrained by the budget and looking for not only cleanliness in the house, but also silence. If you have small children, then feel free to choose a newer model. Just give it a voice command, and it will carry out quick cleaning without disturbing or wakening the baby.
If you cannot go beyond the established amount, then s5 will become an almost identical replacement for the previous model. This robot is for busy people who want to get a clean floor and air without overpayments for extra bells and whistles. Dry and wet cleaning will keep your home fresh while you spend time on more important things.